While the Galaxy Z Fold 5 is one of the best foldable phones out there, it didnt really have much changes in its hardware from last generation, other than the hinge improvement and thinness. The Galaxy Z Flip 5 on the other hand, brings a great upgrade to its predecessor, by introducing a bigger outside screen, and it's awesome!
Design, hardware and Display
The Flip 5 is a piece of beauty, that we can agree on, it's eye-catching, very compact and pocketable, and while open, is great for one-handed use. The device feels slimmer and more compact when folded thanks to its new hinge as well. The good news is that the Z Flip 5 is still IPX8 rated which makes it water resistant.
Color wise, the options are limited to the rear of the phone, with four main colours – mint, graphite, cream, lavender, with exclusives variants available direct from Samsung.com including gray, blue, green and yellow.
We also get a side-mounted fingerprint reader that is a part of the power button, which is incredibly fast and works as expected.
The big change this year, as I mentioned is the cover screen, or what we now call, Flex Window, which is a big welcome to the outside. The outer screen received an upgrade from a 1.9-inch 512 x 260 window on the Z Flip 4, to to a 3.4-inch 748 x 720 one on the Z Flip 5 with a 60Hz refresh rate, covering most the entire outer shell.
The big and improved front screen means you can now do more while the phone is shut, mainly by using the widgets Samsung designed to take advantage of the new design. When swiping left, the available widgets out of the box include weather, calendar, alarms, contacts, and health. When swiping right, you'll get your notifications tray. Swiping from top to bottom, you'll see the settings toggles.
The inside screen is a 6.7-inch 2,640 x 1,080 FHD+Dynamic AMOLED display with 120Hz refresh rate. As expected the display is a bit lengthy and a bit elongated, nevertheless there is no really downside with this when it comes with usability and one handed use.
Overall both displays are very vibrant, and super bright even in direct sunlight.
Performance, Battery and software
Specs wise this year, Samsung went with Qualcomm's Snapdragon 8 Gen 2 Mobile Platform for Galaxy (a modified version intended to optimize Samsung's software and hardware sync). The Z Flip 5 include Wi-Fi 6e, Bluetooth 5.3, NFC, Type-C USB port with USB 3.2 (Gen 1) support. The device is powered by a 3,700mAh battery with 25W wired charging support. The Z Flip 5 comes in a 8GB RAM, 256/512GB storage configuration.
In term of performance, although the Flip has less RAM than the Fold, the Flip 5 nearly matches its sibling in every way. The performance is impeccable, nothing to raise any flags here as well. The extensive usage held very well while throwing whatever we can at the device in one go. No lags, no frame drops with gaming, multi window, etc. We said that during our Fold 5 review, and we say it again here, Samsung did a fantastic job in optimization, specially in device temperature, which can get warm at some point, but stayed balanced even at longer gaming sessions.
The 3,700mAh battery performs well, and I was able to get around 17.5 hours with continuous YouTube video playing test.
During my standard day to day usage unplugged the Flip5 at around 8:45am, the battery reached nearly hitting 28% at around 9pm while using social media apps, watching occasional videos, sending emails, browsing, chatting and playing some games here and there. Overall, battery life was consistent everyday more or less.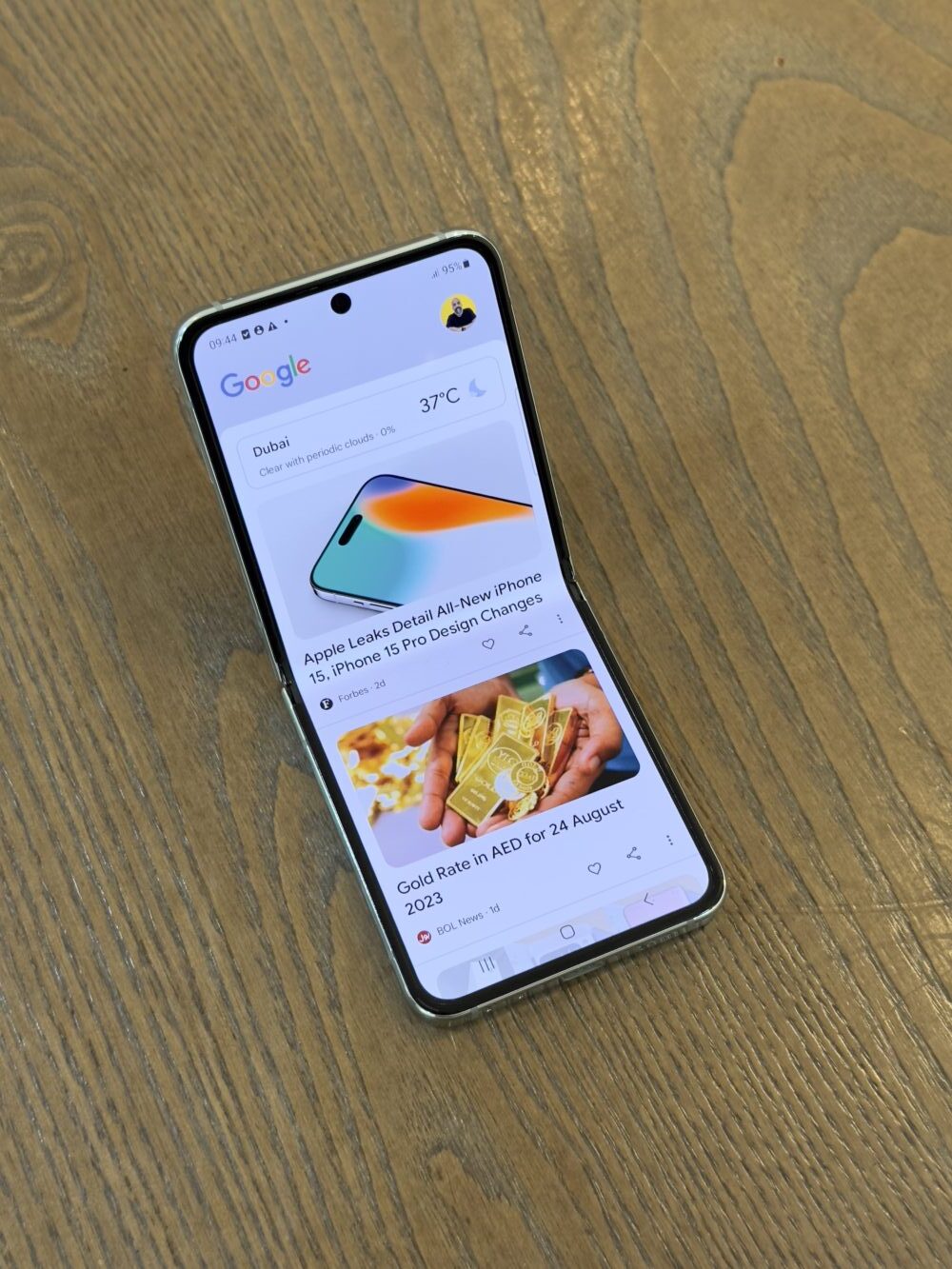 Charging wise, the Z Flip 5 maintains the wireless charging capability, and when plugged to a 61W charging brick, the phone reached 30% in less than 30 minutes and took 2 hours + to get fully charged.
The Samsung Galaxy Z Flip 5 ships with One UI 5.1.1 which is based on Android 13. Similar to the fold 5, the overall UI is very stable, and easy to sue, specially with Samsung's additions and tweaks.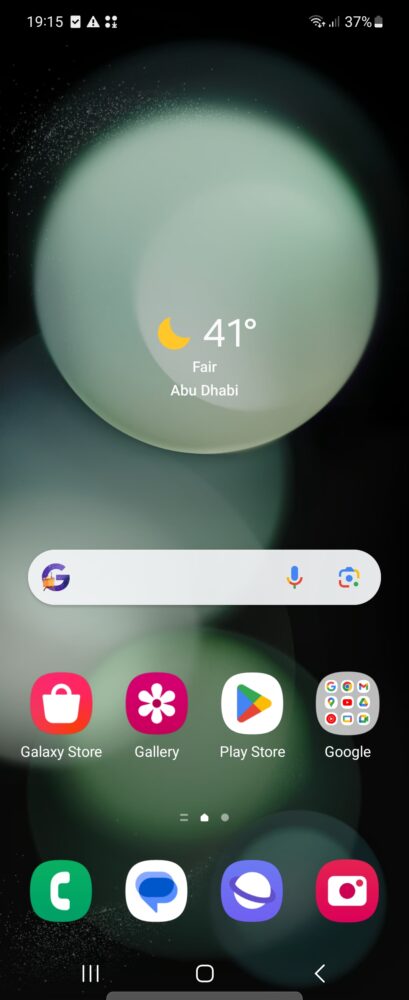 Samsung has a number of card-like cover screen layouts for the external screen, but you should know that, except for the camera button, none of the other buttons are interactive. The Flip 5 also supports "Flex Mode", which pushes apps to the top half of the display when the phone is in L-shape.
if you receive a notification from a messaging app, you can tap on it which will open the message in a card style window giving you the option to reply or clear the message altogether.
Elsewhere, Samsung has implemented its core software features on the Flip 5, including its support of Android wallpaper and style colors, and others.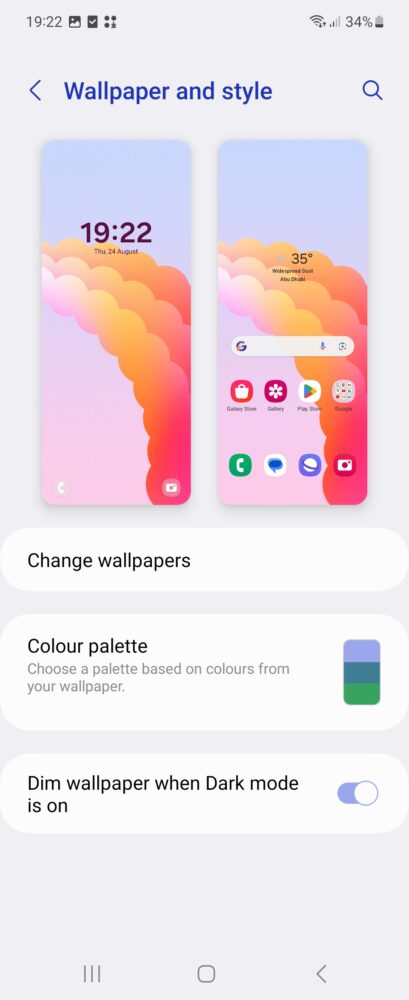 Camera
The Galaxy Z Flip 5's camera is the same as last year's model, with some modifications in processing and a new coating that reduces lens flare. The Z Flip 5 has a pair of 12-megapixel cameras. A wide angle camera with OIS (f/1.8 aperture), and an ultra-wide lens with an f/2.2 aperture. On the front, there's a 10-megapixel selfie camera.
Also, similar to the Fold 5, Samsung is relying on Snapdragon's 8 Gen 2 chipset to improve image quality with a better signal processor (ISP), better AI utilization, resulting in clearer shots.
In outdoor and bright light, the Z Flip 5 captured rich, vivid, and crisp images. The results were excellent, without no complaints. In low light, the camera captures good details when using the night mode.
Overall, the Z Flip 5 camera performs very well, has a quick load, focus, and snap responses, and the outcome is colorful and rich in all scenarios.
Photo gallery: Samsung Galaxy Z Flip 5 camera samples
Verdict – should you buy it ?
While the changes to this year's Z Flip 5 might be seen as marginal, the main upgrade of the external display changes the entire experience here to be honest, making it much more useful and worth considering while making your buying decision. If you are looking to flip sides, we highly recommend the Z Flip 5 for sure.