Design & Build 4 out of 5

Software & S Pen 4 out of 5
Samsung's latest 12.4-inch Galaxy Tab S9 FE+ is here and it positions itself up in the list of big screen tablets and an affordable price.
The Galaxy Tab S9 FE+ is packed with great performance all around, a super display, some pretty solid sounds, impressive battery life, all packaged at a starting price point of 2,299 AED.
I've took the Galaxy Tab S9 FE+ for a spin and here why I think, this is one of the best tablets currently out there for users who are looking for big display with a good price point.
Design & Build
The Galaxy Tab S9 FE+ still holds one of the best design on tablets for sure. It's 6.5mm thick, which is a bit thicker than other tablets yes, but still feels good while holding it, despite its heavier weight as well.
On the sides, you'll find the speaker grills, and a USB-C port for charging. On the bottom, there's a dock connector, while on the top of the Tab sits the combined power button/fingerprint sensor and volume rocker, with the microSD card slot sitting to the right side. The fingerprint sensor worked as expected in both portrait and landscape mode.
The back of the Galaxy Tab S9 FE+ is made from matte metal finish, with the camera module on the upper right side, and a magnetic strip in the middle to hold the included S Pen. The tab has a IP68 dust and water-resistance rating, meaning It can handle being immersed in water for up to 30 minutes (I do not recommend doing that of course).
Overall the the Galaxy Tab S9 FE+ feels as premium as its Tab S9 Plus sibling.
Display & Sound
The Tab S9 FE+ has a 12.4-inch LCD display instead of an AMOLED, with a resolution of 2560 x 1600 pixels. The display is sharp and clear, and it has good viewing angles. The colors are also vibrant and accurate, and runs at refresh rate of 90Hz, instead of 120Hz. Of course, when you see these compromises on the FE, you might think that the experience wouldn't be as good, but I can assure you, this is not true. Samsung did a great job here in delivering great viewing and performance experience, even with dialed down specs compared to the Tab S9 Plus.
The colors on this panel are truly incredible, and at one point you would question if this was really an LCD screen. Samsung definitely did a great job there! Colors were really vivid and punchy, making it a great tablet to watch and enjoy movies on.
Contrast and brightness are up to what you'd expect from a Samsung display. The contrast on the Galaxy Tab S9 FE+ is great compared to other devices with LCD displays. The brightness is also good and bright enough to enjoy content outdoors. Of course, you shouldn't expect smartphone level brightness, but it gets the job more than done in terms of viewing experience if you use your table in direct sunlight. The bezels around the screen are a little thicker than the Tab S9, but I found it handy when holding the Tab to watch a video.
Aside from a great display, a big part of enjoying movies on tablets is the sound experience, which, on the Galaxy Tab S9 FE+ is powered by a dual AKG-tuned speakers.
These speakers are bada**! Oh yes, they are more powerful than I expected, matching high end laptop speakers, with crystal clear sounds and well packaged output overall, including solid bass output.
Performance
Performance wise, the Galaxy Tab S9 FE+ is smooth. I've tested the version with 8GB of RAM and 128 GB of storage. There's also a version with 12GB of RAM and 256GB of storage. Both have a microSD card slot that can be expanded up to 1TB or storage.
The Exynos 1380 is well-optimized and was able to handle some pretty rough multitasking I thought at it while having video playing in the background and navigating the interface.
Loading apps is equally good, and had no issues with quick responses while launching heavy apps. Speaking of heavy, I also tested some games, and the performance here varied a bit, but to be honest I expected that as well.
When playing your standard games that do not require any extra processing power, you are of course covered without any issues. Moving up to mid level games, also performed well all around. Playing titles like Asphalt 9 was smooth without any drops in frames.
Moving a notch higher with Genshin Impact for example, is where things would start to slow down. But again, this is expected for and FE series device, and don't get me wrong, I am not saying that the performance was bad, on the contrary, even with the occasional slow down, or frame drops, the the Galaxy Tab S9 FE+ was able to still perform much better than other android tablets in the same category.
Software & S Pen
The Samsung Galaxy Tab S9 FE Plus runs on Android 13 with Samsung One UI and has good optimizations for large sized tablets, including Samsung DeX, which allows you to basically have a near laptop experience. From app shortcuts on the desktop, to a taskbar on the bottom with quick access to setting, and other options. While Samsung DeX still needs some polishing and overall improvement in supporting some apps, it's still a good option to use on this tablet.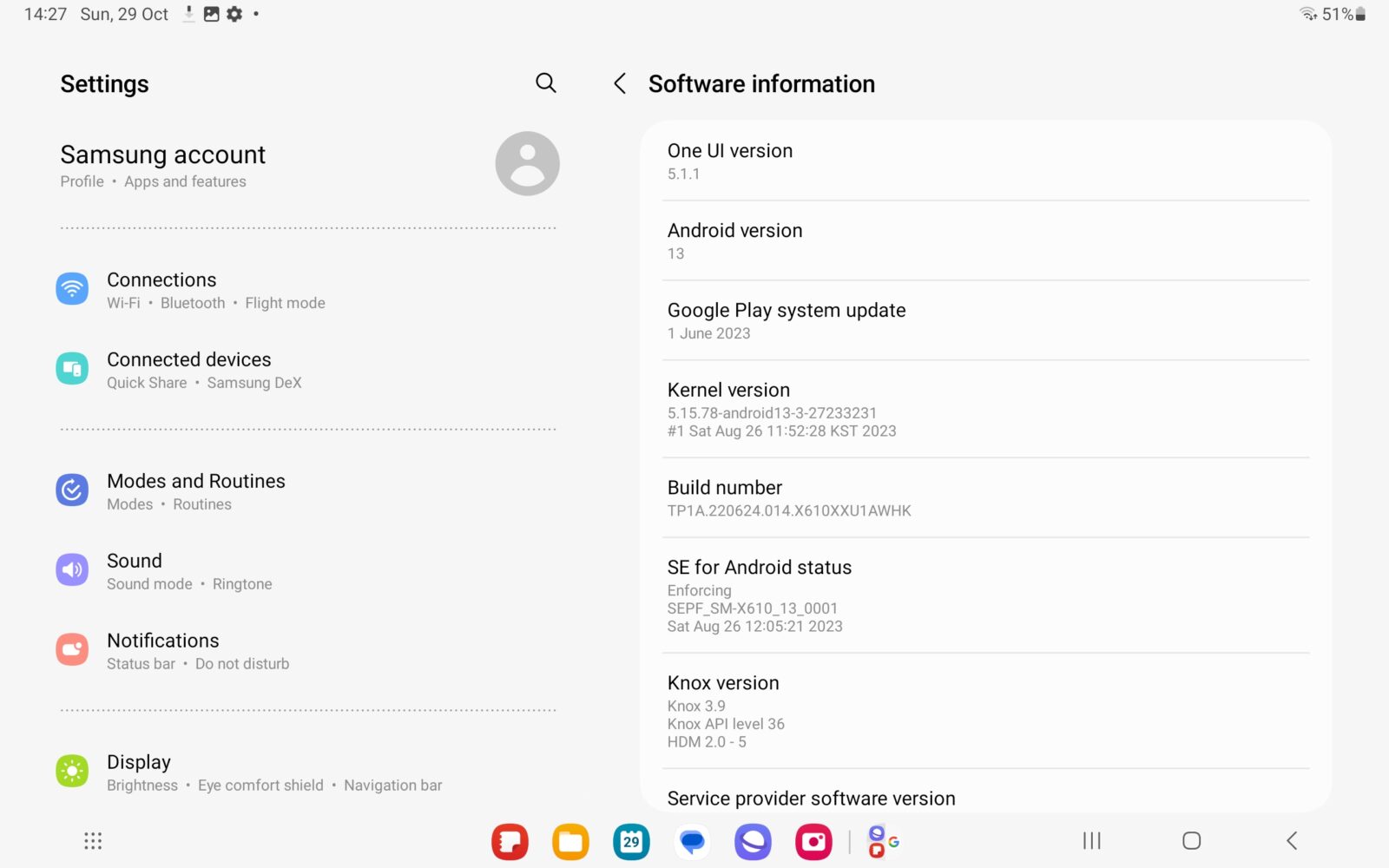 Android allows you to run two apps side by side along with pop-up apps. You can save your apps layout as will to the taskbar or the home screen to use again later.
The Samsung Galaxy Tab S9 FE+ comes with an S Pen which provides a good experience for an entry level stylus to be honest. Drawing with the S Pen feels natural and responsive. I haven't experienced any lags during my limited drawing abilities.
Cameras
I usually skip the cameras on any tablet, as I don't really see any use for it except for video conferencing, so this will be short. There are two 8MP rear cameras that produce ok images for quick use, nothing to talk about in details here. The 12MP front-facing camera does a good job for video conferencing, the quality is sharp with good details all around.
Battery
The tablet has a massive 10,090mAh battery, which provides a great battery life. I had no issues at all with getting around 2 days of battery life with moderate use. With heavy usage, I was able to get just near 18 hours, while streaming video, listening to music, browsing, drawing and using social media, with around 7 hours of screen-on-time. The is quite impressive with a tablet of that size. The Galaxy Tab S9 FE+ supports fast charging, which can juice up the tablet to 100% in around 1.5 hours.
Verdict
The Galaxy Tab S9 FE+ is an excellent tablet packed with great features at an affordable price point for its size. Overall design and build, display, sound and performance are great, and it comes with an S Pen which is an edge over other brands, which sells them separately. Overlooking the weight and thickness, which is manageable to me at least, this is a highly recommend pick for sure.