Spider-Man 2 is a single player game continuing the story from Spider-Man and Spider-Man Miles Morales. This is our review of the latest installment in the Spider-Man PS5 exclusive series.
Story
The game follows both Peter Parker and Miles Morales, and you can switch between the players at any point outside of missions. Yes you read that right. Think GTA V style character transitions done in with Spider-Man flare.
The story itself is a beautiful continuation, showing how the characters are not only maturing but also dealing with regular life problems added into the mix of being superheroes.
One big difference in this installment is that the important people surrounding both characters know about their abilities and that they are Spider-Men. A refreshing take on the superhero trope that your loved ones must be kept in the dark. Here you see both characters given love and support in their extra curricular activities.
The story is well paced and beautifully crafted around two central characters. Each having their own underlying story while paving the way for the main story. This game is a master class in story telling and shows a maturity and coming of age story of two people at different milestones. Something we all will have to go through.
There are some subtle and not so subtle throwbacks to the last 2 games via side missions, or easter eggs. My favorite being the side mission with Howard, a beautiful, short yet emotional mission that hits home really well.
Graphics
Spider-Man 2 builds on the existing solid foundation of the previous two games. This means crisp graphics with fluid gameplay and combat sequences. Where Spider-Man was a gorgeous game heralding a new age of graphics thanks to stronger hardware and Miles Morales took it to a whole new level with the particle effects and cool lighting effects. Spider-Man 2 doesn't feel like a step up.
This isn't a bad thing, since the predecessors looked great! It's just to say that our minds are pre blown by the first two games.
In some cases the character movements in cutscenes are a bit disjointed, especially the speech. This was an area I was hoping Insomniac would spend time improving. But it's a minor gripe in an otherwise stellar looking game.
One thing that must be commended on is the city itself. It is teaming with life and feels alive and natural. From the cars, to the people, to the noise and everything about it is stunning.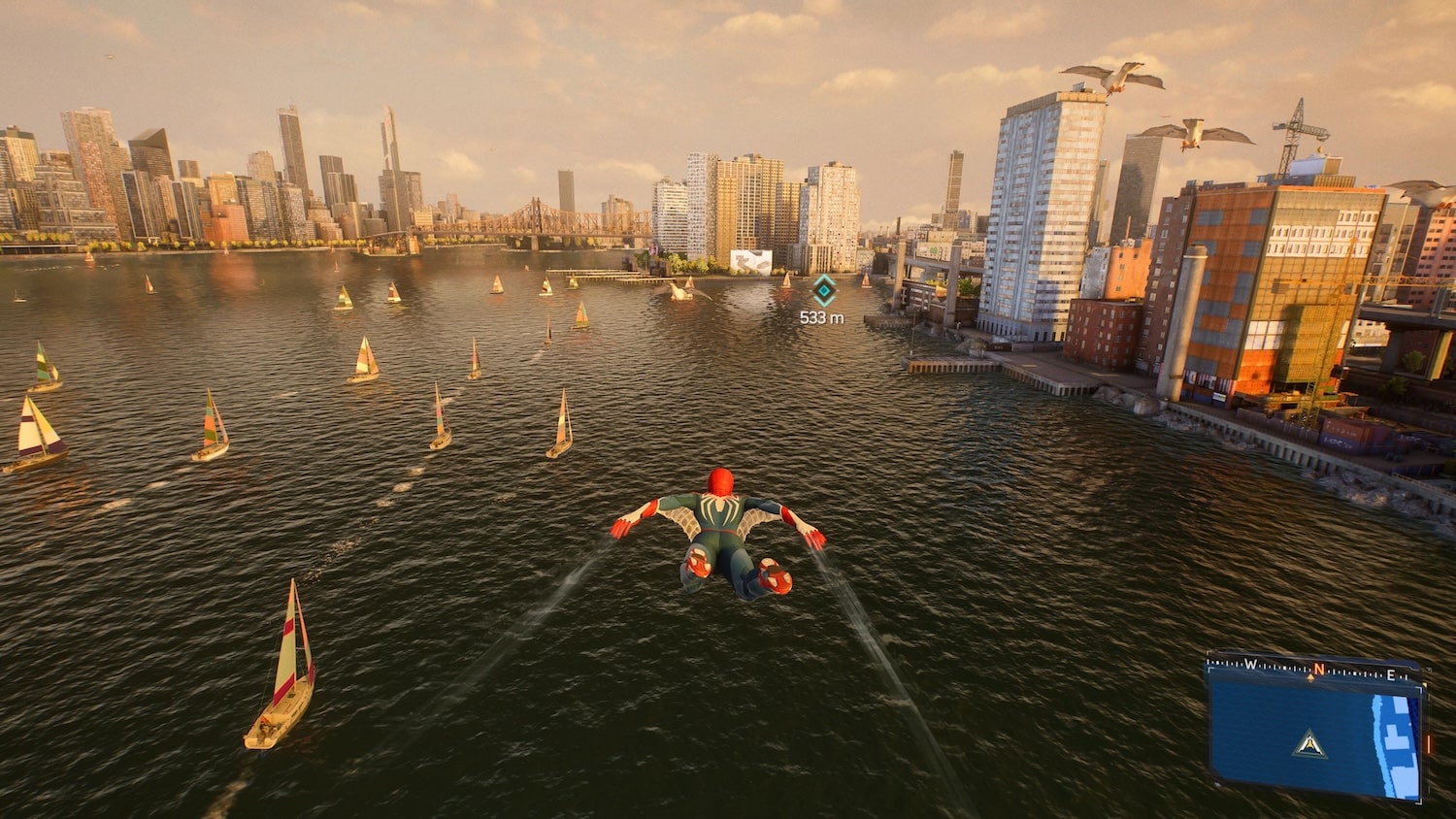 Gameplay
The gameplay of Spider-Man 2 feels just as natural as the previous two games. This means veteran players will feel right at home, and new or rusty players (like myself) will be able to jump into the game quickly and easily.
Action sequences flow really well, with punches landing, doges evading and gadgets & abilities feel second nature.
This game doesn't mess with the successful, pre-existing formula.
The addition of joined takedowns, where you and the second character team up to take down an enemy is just a treat to witness.
The switching between characters is great, especially when you do it at random points in the game. Like I mentioned before, it's very reminiscent of GTA V. When you switch to the other character, you will always catch them doing something so appropriate to their character. Glad to see this done well.
There are also character specific side-missions and objectives, which allow you to switch to the other character easily. Matter of fact, this applies to the main missions as well, some of which are character specific.
The only gameplay mechanic that might seem a bit cumbersome at first is that you now have 3 skill trees. One for each character and a combined one. At first I thought it would be annoying and grindy, but after a few hours of playing, it feels natural and adds an additional level to the mechanic.
One negative is the costumes. Many of them are copied from the previous games, which I have unlocked there, but here you have to spend to unlock them (strictly earnable in-game currency, no micro-transactions here). Resources you could have otherwise spent on leveling up your suite or gadgets. Not a fan of this, which just makes me not want to change the look of my character, something I did often in the other games just to add a bit of variety.
One of the newest abilities in the game is the web wing. THis adds a whole new dimension to the already fun traversal mechanics. You can glide from any building and also pick up jet streams to use quick airways to get around the city. This feature is loads of fun to mess around with and the fastest way to get across the map.
This isn't a unique feature, as it was done really well in the Batman Arkham series, and also done in Gotham Knights, but in the later it was uninspired. However, Spider-Man does it in ither own way and I'm all for it.
Performance and Stability
When the game runs, it runs smoothly however we have noticed quite a few bugs. Especially when trying to resolve random crimes. Many times enemies have phased through the wall or otherwise gone out of bounds. One time an enemy was stuck in a car that had glitched onto the wall, while another was performing a tribute to Michael Jackson's anti-gravity lean.
Sadly this meant that those encounters had to be abandoned as those enemies were unreachable.
A couple of times, my character got stuck in an out of bounds situation. Randomly landing on a building to find myself in an inescapable box that I had clipped into.
Sometimes the NPC AI is also a bit strange with companion characters getting stuck running into a wall, instead of turning and heading through a doorway. Once I even faced a looping controller rumble effect that didn't stop forcing me to reload a checkpoint.
Thankfully the game has been relatively crash free, with only one crash, which was a bit annoying but booting the game back up brought me to a spot a few seconds behind when the crash happened.
These performance issues are a sad reality of the gaming industry at the moment. Where games are rushed to meet a deadline even if they may have seemingly trivial bugs and issues. I'm sure these issues will be fixed soon with updates, but it's a sad reality we live in. Game studios should release a finished product, not rely on updates.
Multiplayer
The multiplayer experience in Spider-Man 2 is absolutely amazing! In my head. Because it doesn't exist.
This feels like a missed opportunity, I would love to be able to play this game along with a friend where we each pick a character and go through the story together. One can even be on a mission while the other is doing side missions. It would be so much cooler and be a truly unique experience.
When games like Dying Light and Gotham Knights can pull it off, there is no reason why Spider-Man can't have had it.
Yes we know Gotham Knight was a horrible game, but its best element was the multiplayer aspect that made the game enjoyable.
Hopefully Insomnia, Marvel and Sony will consider the idea and make a multiplayer game in the future. Till then this section is wishful thinking, and hasn't been included in the rating because we all know this is a single player game.
Summary
Spider-Man 2 is a solid sequel to the combined might of the first two games. A strong story line with stellar gameplay and solid graphics. This game is a no brainer recommendation from me. Be ready for a mature story wrapped with super hero antics and loads of fun.