For years now, Sony has been creating some of the world's best noise-canceling headphones, with each version released outperforming it predecessor in terms of quality and features. This year, Sony has decided to give its WH-1000 series an all new design, and hardware, stepping away from its traditional look and feel. Building on the susses of the WH-1000XM4, Sony has gone all out with the WH-1000XM5, its latest flagship. 
The XM5s come in black or silver, with an overhauled look and feel. To start, Sony has adopted a new "noiseless design" with an attempt to delivery a slimmer and smoother design. The new design is made from a single stem attached to the cups, and are wider and have more padding than its predecessor. Sony also, upgraded the hardware including dual processors, a carbon-fiber 30mm driver, more microphones, 360 Reality Audio, Digital Sound Enhancement Engine (DSEE), which can all be controlled using the Sony Headphones Connect app. Additional features include Adaptive Sound Control, Speak-to-Chat, wear detection options, touch controls, Quick Attention mode and hands-free support for Google and Amazon Alexa voice assistants.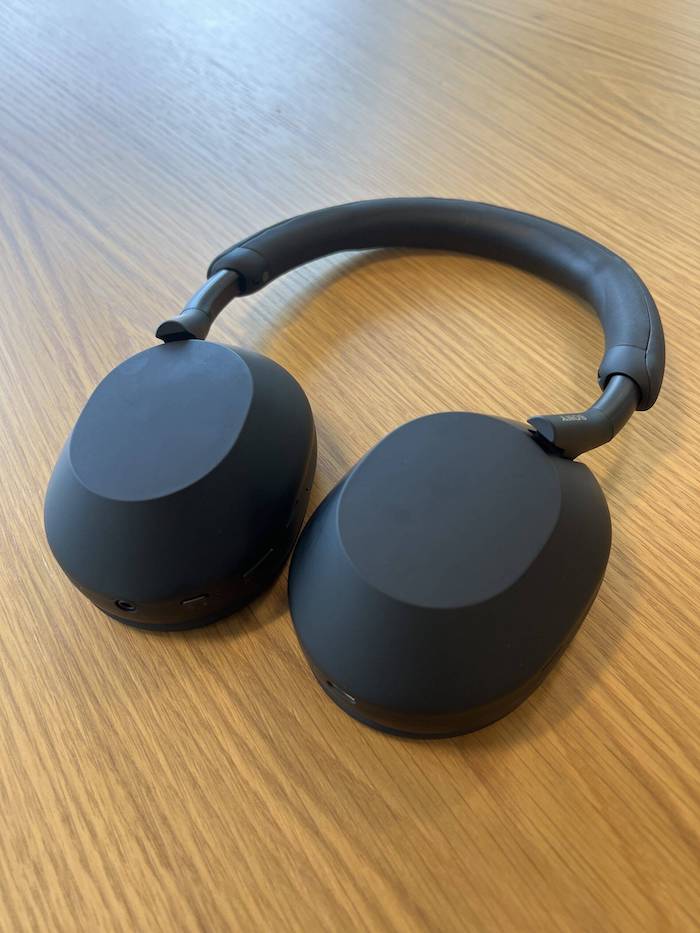 Hardware & Features
The XM5s are packed with wide sets of cups that supportingly do not feel bulky and are very comfortable to have on for a long periods of listening. The ports and buttons are placed on the bottom of the cups. At 250g, which is a few grams lighter than its predecessor, the XM5s felt much lighter to wear.
Sony has replaced the older 40mm driver used in the XM4 with 30mm carbon-fibre composite ones in the new model, which improves sound clarity and of course enhances its noise cancellations performance. Sony has also powered the headphones with their V1 and QN1 processors, resulting in a huge upgrade in performance. The XM5s are also packed with Bluetooth 5.2 and extend codec support to Sony LDAC, SBC, and AAC.
The left ear cup's side houses dedicated physical buttons for power/pairing and ANC/Ambient modes. The right ear cup also pack capacitive touch controls. Swiping forward or backward skips tracks. Swing up or down controls the volume, and finally a double-tap controls playback, calls, and voice assistant (long hold).
Battery wise, the XM5s can last up to 30 hours and 40 hours if noise cancellation is set to off. Our tests showed this number to be fairly accurate however keep in mind that battery life may vary based on the functionalities you opt to switch on such as DSEE Extreme, Speak-to-Chat, Priority on sound mode while using Bluetooth, and Voice assistant.
Noise Cancellation Performance & Audio Quality
It's actually pretty straight forward, the XM5s eight-mic array deliver powerful adaptive noise cancellation. Once you put the XM5s on, the surrounding goes super silent, and rightly deserves how Sony describes them as "industry leading". The noise canceling is very impressive here, and can automatically adapt based on your surroundings, and locations that you visit. If you prefer to stay aware of your surrounding, Ambient sound available of course with a click of a button.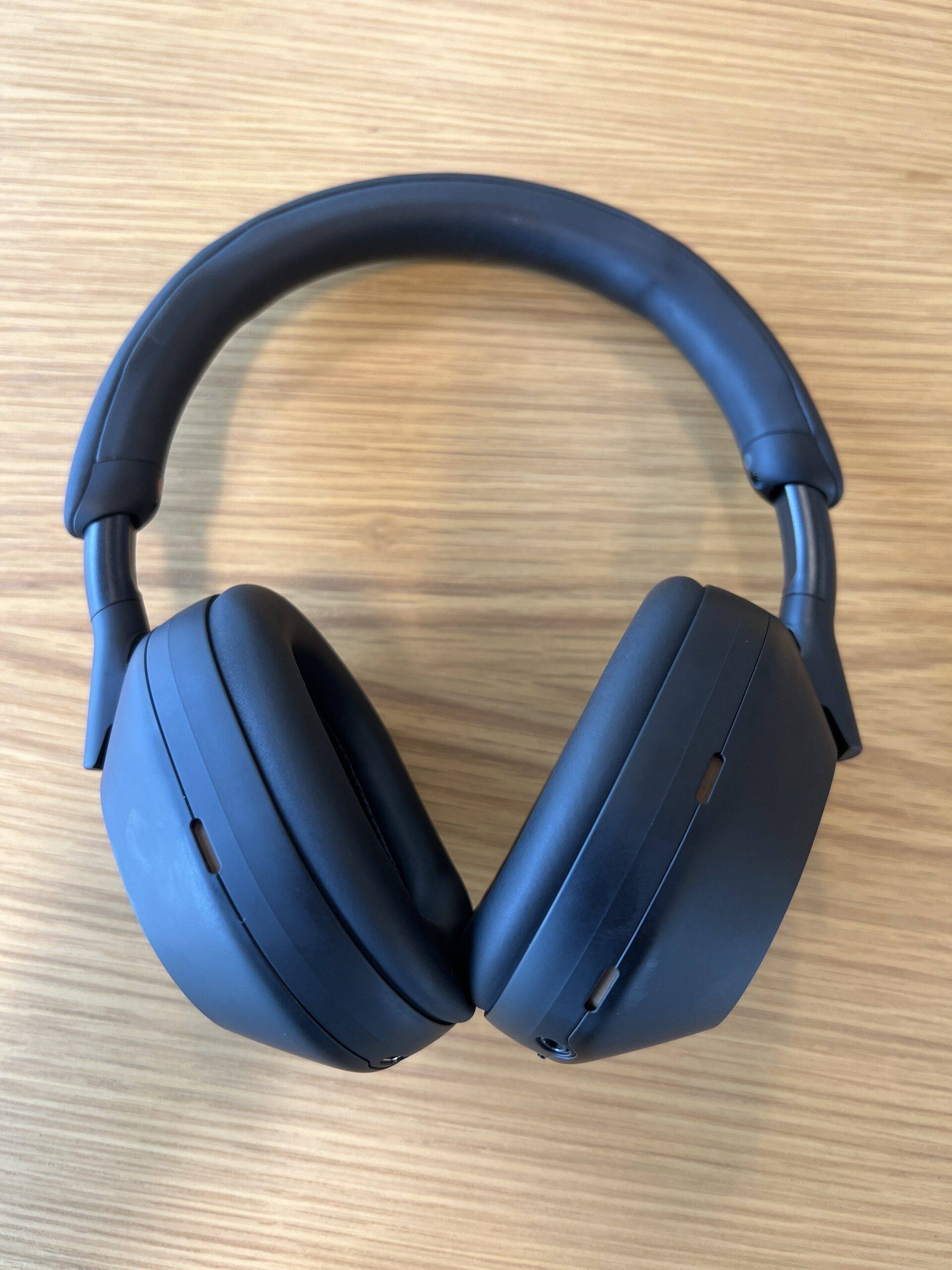 Overall, we'd say the audio quality is amazing, and we're super impressed! The clarity is unmatched, precise, rich, detailed, and vibrant. The XM5s' new 30mm driver definitely plays a role here in importing high-frequency sensitivity, delivery more natural sounds. One other delight here is the volume level, which compared to other brands, reach much higher levels without distortion or loss of quality.
Whilst the flat standard setting of the EQ out of the box is pretty good, you have the ability to tweak settings and set custom sound profiles through the app. The sound section on the app allows users to browse through different EQ settings, turn on Speak-to-chat, setup 360 Reality Audio, and turn on / off the DSEE Extreme control.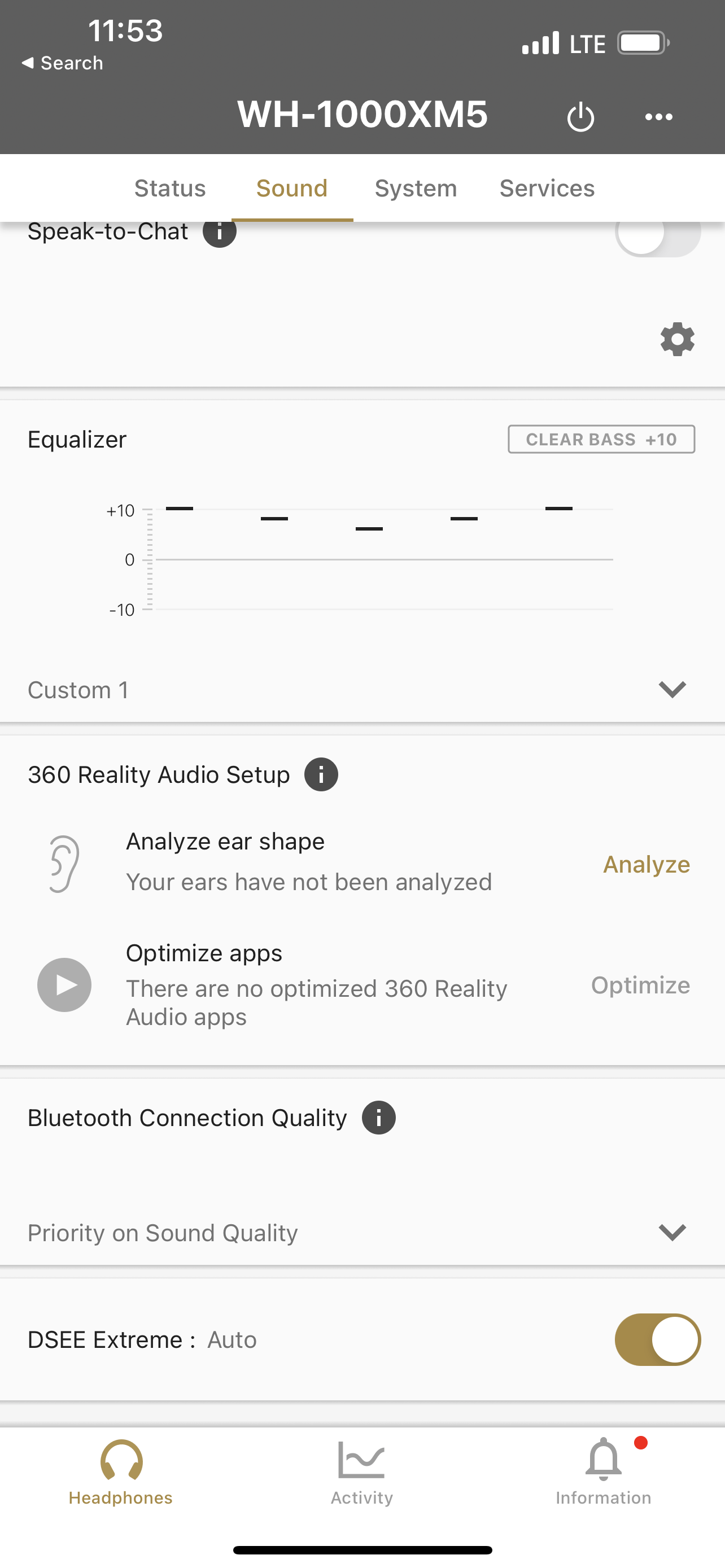 Verdict
We've tested the XXM5s for a while, and we can easily confirm that these are the best-sounding / noise-canceling headphones we have used so far, and recommend them to anyone who is either looking to upgrade or buy a new set of headphones.