Galaxy Watch 6 Classic Astro Edition
Samsung has recently launched its limited edition 47mm Galaxy Watch 6 Classic Astro Edition, made specially and exclusively for the MENA region.
We take a look in this review mostly on the begin and what it represents, alongside its top features of course.
Galaxy Watch 6 Classic Astro Edition pays homage to Astrolabes. Astrolabe's are instruments that were used back in the days to figure out the position of stars at night, and map out travel plans and exploration. Samsung also sad it was honoring the region's legacy of innovative and scientific contributions in astronomy, mathematics, and time.
What's in the box?
The box itself feel very premium. You'll have to slide it open from both ends, where the watch box will appear under a leaflet showcasing the watch face in the middle. Once you remove the leaflet, the actual Galaxy Watch 6 Classic Astro Edition appears.
The box contains the watch, and additional fabric strap, Astro Edition Collectibles, and Exclusive Access to Promotion Store.
The Astro Edition comes with an all black leather strap. You'll also get an additional fabric strap inside the box.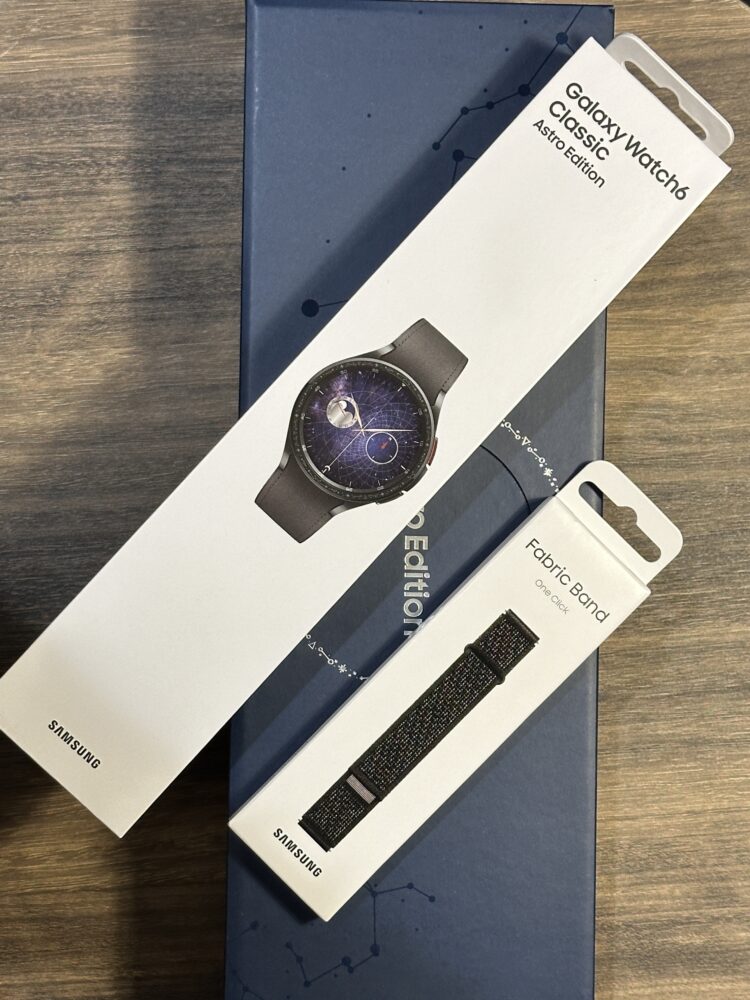 How does the Watch 6 Astro edition pay this homage?
Firstly, Samsung has added a rotating Black Astro Bezel, which is etched with constellations and celestial bodies and stars all around it. Samsung has also added features inspired by the astrolabe, like a compass and lunar phases tracking which allows users to track movements of the sun and moon.
The calendar complication feature of the Astrolabe allows users to calculate the day of the month based on the position of the moon.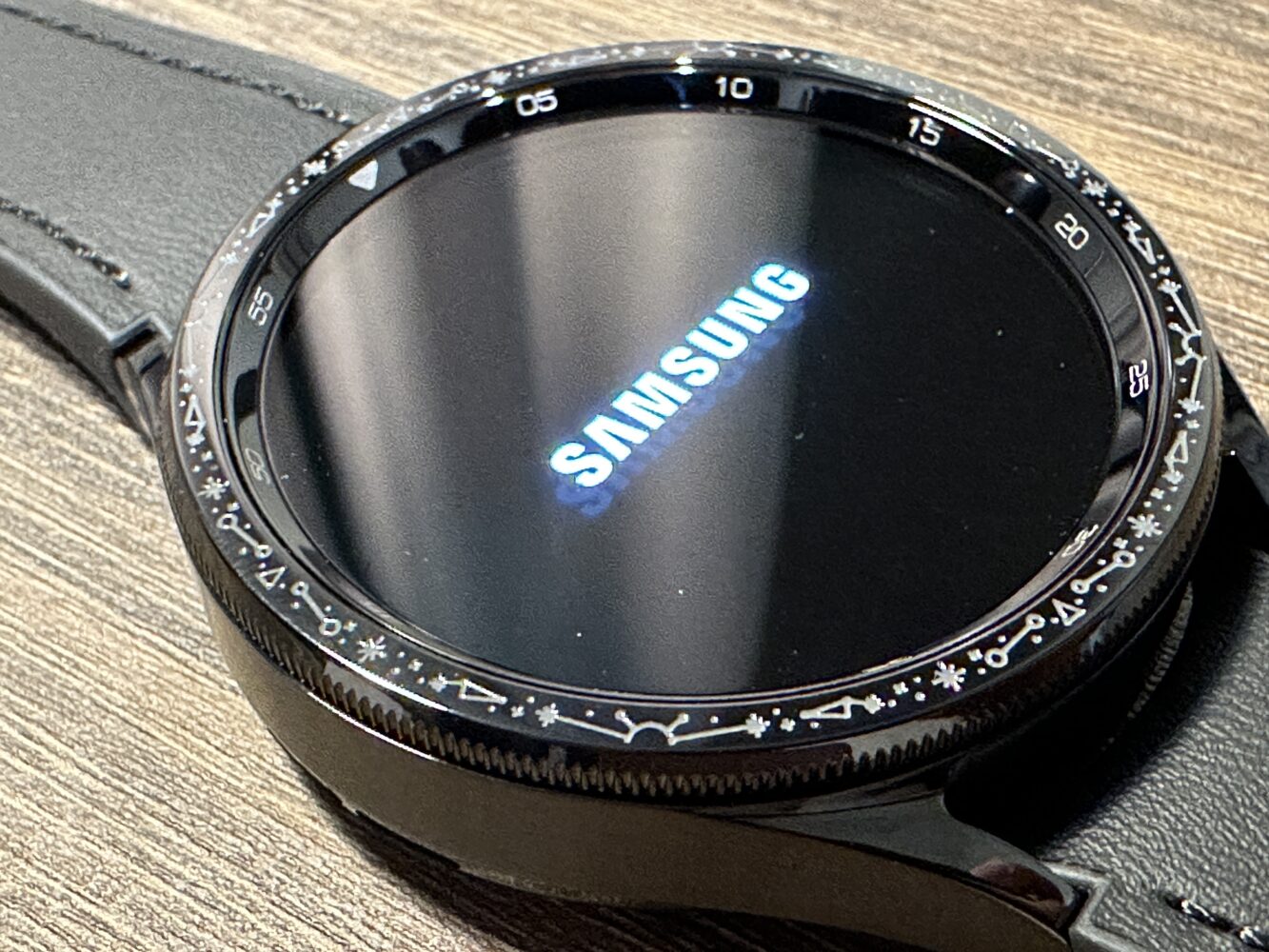 Additionally, the default watch face loads with a looping video of space, with objects moving across the screen. If you also look closely, you'll notice a crescent moon at the tip of the second hand.
Overall the design is what makes this watch so beautiful, Samsung has really done an amazing job with this limited edition. Respect.
Your Galaxy Watch 6 Classic features
The47mm Watch 6 Classic comes with a 1.5″ Super AMOLED panel protected by Sapphire Crystal glass with a max brightness level of 2,000 nits, with makes it great for outdoor use. This year, the Watch 6 Classic is powered by Exynos W930, with 2GB RAM and 16GB of internal storage.
The watch's case houses two buttons, the speaker and microphone holes on the right side.
The sensors for tracking all the different health metrics rest of course on the back side.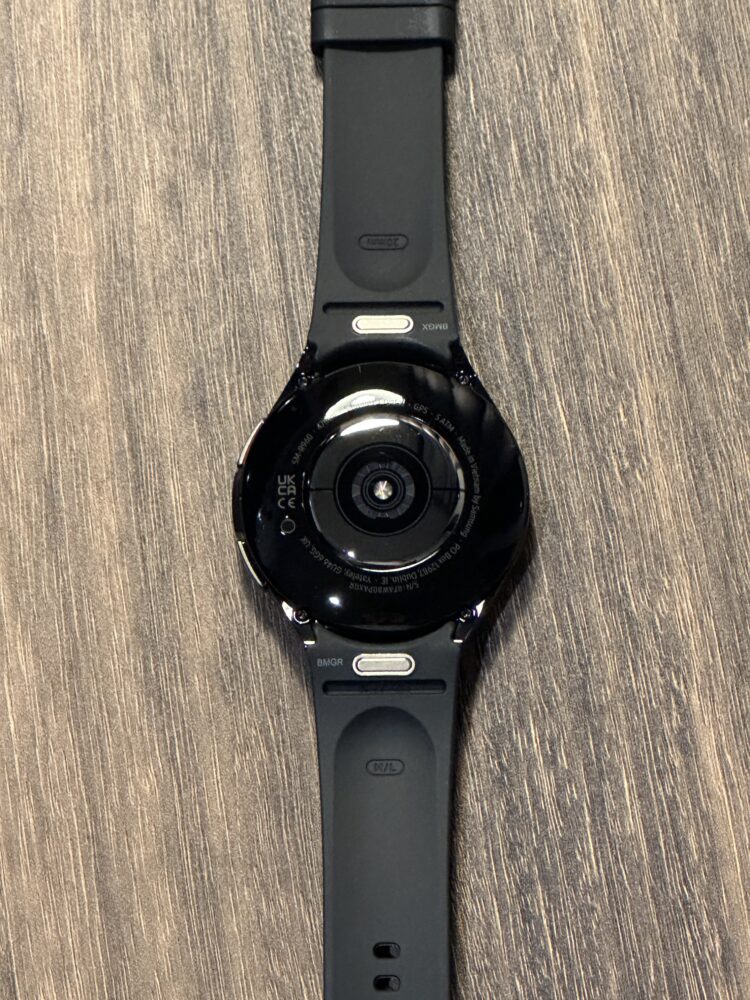 Elsewhere, the Watch 6 Classic Astro Edition is IP68 water resistant, has a built-in GPS and runs the new Wear OS 4 version with Samsung's One UI 5 Watch on top.
Health options wise, your usual heart rate monitoring, sleep patterns, oxygen level, fall detection, ECG, irregular heart rhythm notifications, and emergency services auto call are all available. Additionally, a new track run workout is available to create custom workouts. The Galaxy Watch 6 auto-detects activities like walks, runs, and others.
In terms of battery (425 mAh) life, Samsung claims the Galaxy Watch 6 can last up to 30 hours with the always-on display, or 40 hours. Those numbers were very close to our testing, with a variation of around an hour +/-.
Should you buy it?
Seeing that this is a limited edition watch, dedicated to the region only, which also packs the latest and greatest in Wear OS 4 and is rich in features, we would say yes, absolutely worth it.
Availability
The Astro Edition watch is available only in a 47mm size and it is exclusive to multiple MENA markets, including UAE, Kuwait, Qatar, Bahrain, Oman, Saudi Arabia, Iraq, Egypt, Jordan, Türkiye, and Morocco.