Build & Design 5 out of 5

Outdoor features 5 out of 5
The Apple Watch was released alongside the iPhone 15 and iPhone 15 Pro series, and while it essentially looks the same, feels the same, it still packs some new features that would probably appeal to people on the smaller Apple Watches to upgrade this year, if they haven't already done it with the first Apple Watch Ultra. The Watch Ultra 2 is one of the first carbon-neutral products by Apple as well. The case is made of 95% recycled aluminum, and the loop contains 32% recycled content.
Now that the Double Tap feature has officially been released with watchOS 10.1, we thought we'd have a look at the Apple Watch Ultra 2 and see if it's worth the upgrade.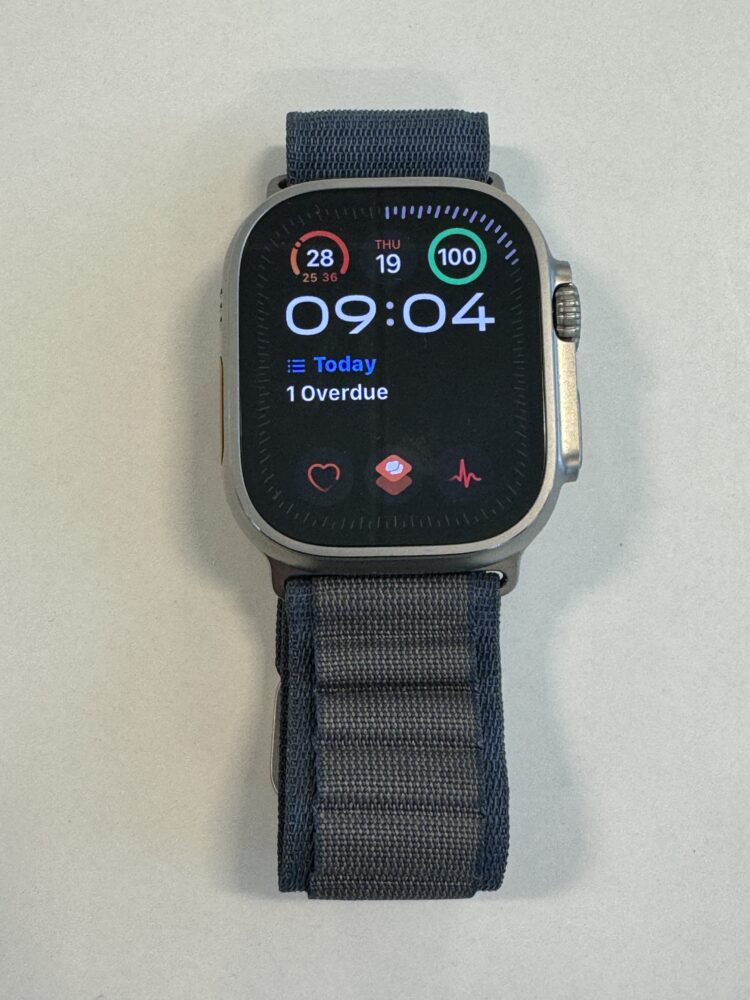 So what has changed ?
In a nutshell, the main changes this year have to do with the display which is now brighter with up to 3,000 nits, and it is BRIGHT! Everything on the screen is crisp, clean with vivid colors, even in peak outdoor timings under the Dubai sun.
Apple has also powered the Apple Watch Ultra 2 with its new S9 SiP which opens up more room for features like Siri on-device processing, and Double Tap gesture. Apple claims that the S9 is 30% faster than last year's version. And yes, we have to say, the speed is noticeable when opening apps, or starting workouts, the Apple Watch Ultra 2 is just snappy all around.
Circling back to Siri's on-device processing and comparing it with the Apple Watch Ultra 1, the responses are just instantaneous, with no processing lag. WIth the new S9 SiP, Siri doesn't need any internet connection and process requests entirely on-device without having to go to your iPhone and back for responses.
Another feature courtesy of the new S9 SiP, is the Precision Finding feature which allows you to see and track the distance and direction of your iPhone, if you lost or misplaced it. Apple has also doubled the onboard storage of the Ultra 2 to 64GB.
Battery life remains more or less the same, with a slight improvement which to be honest isn't that much noticeable compared to the Apple Watch 1, it still give you great battery life which can last up to 3 days in moderate use.
Double Tap is here
One of the main big features on the Apple Watch Ultra 2 is Double Tap. Now with watchOS 10.1, Double Tap finally arrives, and lets you control multiple aspects of your Apple Watch by tapping your index finger and thumb together. From playing / pausing music, to picking up calls and hanging up, replaying to text messages by voice, scrolling through widgets on the smart stack, and more. Basically, in more or less every app, the Double Tap preforms the primary button functions.
When looking at the watch for instance, Double Taping will bring up the "smart stack". Double taping again will either scroll through the cards or select the card you are on, based on the settings users chose.
How to change the Double Tap settings
On your watch, open settings, tap gestures and then toggle the ON/OFF switch. Scrolling down within settings, you can find options to change the media playback between Play/Pause/Skip, or the Smart Stack to Advance forward and Select. All these settings can also be toggled from watch app on the iPhone.
Full list of double tap action:
Opening the Smart Stack from any watch face and scrolling through widgets in the stack.
Answering and ending phone calls.
Viewing a message from a notification, scrolling through longer notifications with an additional double tap, replying using dictation, and sending a message.
Pausing, resuming, and ending a timer.
Stopping and resuming a stopwatch.
Snoozing an alarm.
Playing and pausing music, podcasts, and audiobooks.
Switching to the new Elevation view in the Compass app.
Taking an iPhone photo with the Camera Remote in the Camera app.
Starting or stopping automatic Workout reminders.
Performing the primary action from notifications, such as replying to an incoming message from a messaging app and snoozing reminders — including from third parties.
I used this feature for a while now and have to say, it is super accurate and once you get used to it, it will be your default way to control the watch. 
watchOS 10
Elsewhere across the watch, the outdoor activities and sports features remain on a constant update and get better with every watchOS, specially with watchOS 10.1, where a lot of enhancements and more integration with third party apps.
Overall, watchOS 10 is solid and bring much welcomed updates to activities that go hand in hand with the iPhone, like cycling with advanced new metrics, views, and experiences.
When a cycling workout is started for instance, it will automatically show up as a Live Activity on iPhone and, when tapped, will utilize the full screen. Workout Views, such as Heart Rate Zones, Elevation, Race Route, Custom Workouts, and a new Cycling Speed view, have been optimized for the display size of iPhone, which can be mounted to a bike for convenient, easy viewing during a ride.
Also with watchOS 10, Compass automatically generates two new waypoints: A Last Cellular Connection Waypoint will estimate the last place with cellular reception, which may be useful for checking messages or making a call. In case of emergencies, a Last Emergency Call Waypoint will estimate where on the route their device had the last connection to any available carrier's network so that an emergency call can be made.
New band options
As the tradition goes, with every new Apple Watch release, new bands are announced as well. This year get new Alpine Loops in blue, indigo, and olive hues, while the Trail Loop comes in orange/beige, green/gray, and blue/black color combinations. Additionally, the ocean band is now available in blue and orange.
Should you buy?
This is essentially is a multiple choice question, with the answers below:
If you are an Apple power user/fan who has to have the latest and greatest, then this is an easy YES.
If you own the Apple Watch Ultra 1, and feel that the upgrades just don't justify the move, then NO, stay on the Apple Watch Ultra 1.
If you are on any other Apple Watch, specially older than Series 8, and looking to change, then YES, this is for you, the upgrade would be substantial.
You can also check out our Apple Watch Ultra 1 review, and see what makes this a great upgrade to an already solid watch.