Apple announced the much anticipated iPhone 15 Pro and iPhone 15 Pro Max, designed with aerospace-grade titanium that's strong yet lightweight to deliver Apple's lightest Pro models ever.
The new design features contoured edges and a customizable Action button, allowing users to personalize their iPhone experience. Camera upgrades enable the equivalent of seven pro lenses with incredible image quality, including a more advanced 48MP Main camera system that now supports the new super-high-resolution 24MP default, the next generation of portraits with Focus and Depth Control, improvements to Night mode and Smart HDR, and an all-new 5x Telephoto camera exclusively on iPhone 15 Pro Max. A17 Pro unlocks next-level gaming experiences and pro performance. The new USB‑C connector is supercharged with USB 3 speeds — up to 20x faster than USB 2 — and together with new video formats, enables powerful pro workflows that were not possible before.
iPhone 15 Pro and iPhone 15 Pro Max will be available in four stunning new finishes, including black titanium, white titanium, blue titanium, and natural titanium. Pre-orders begin Friday, September 15, with availability beginning Friday, September 22.
Design
Available in 6.1-inch and 6.7-inch display sizes, iPhone 15 Pro and iPhone 15 Pro Max feature a strong and lightweight titanium design which has one of the highest strength-to-weight ratios of any metal, making this Apple's lightest Pro lineup ever. Both models feature a new refined brush texture, contoured edges, and the thinnest borders on iPhone.
Using an industry-first thermo-mechanical process, the titanium bands encase a new substructure made from 100 percent recycled aluminum, bonding these two metals with incredible strength through solid-state diffusion. The aluminum frame helps with thermal dissipation and allows the back glass to be easily replaced.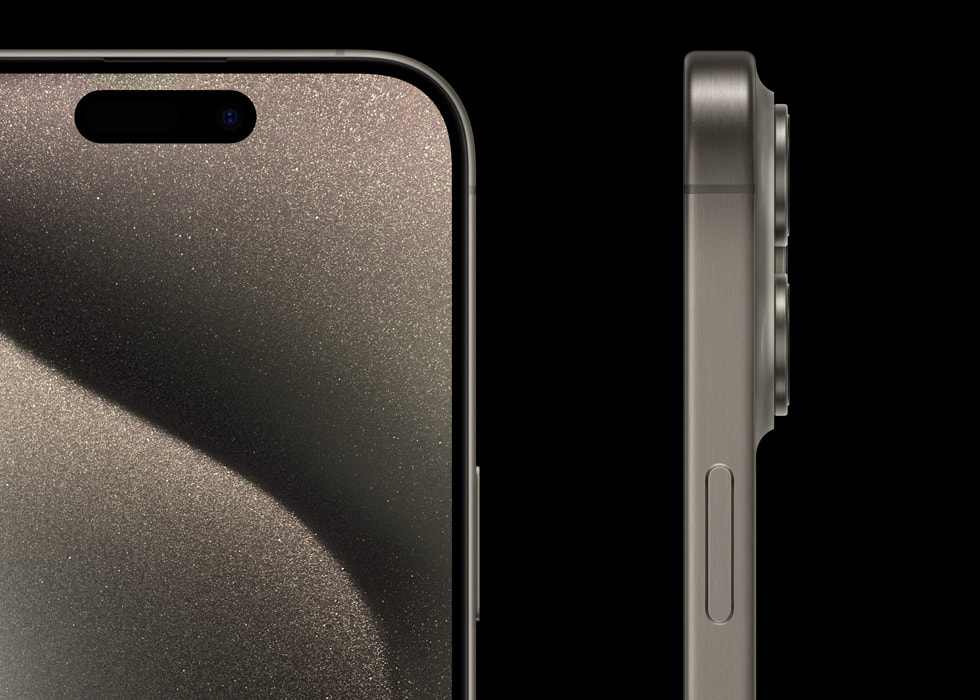 The all-new Action button replaces the single-function switch used to toggle between ring and silent, offering additional options so users can choose between quickly accessing the camera or flashlight; activating Voice Memos, Focus modes, Translate, and accessibility features like Magnifier; or using Shortcuts for more options. A press-and-hold gesture with fine-tuned haptic feedback and visual cues in the Dynamic Island ensure the new button launches the intended action.
By default, the new Action button can switch between ring and silent, but users can choose from a set of actions for even more convenience and versatility.
A17 Pro
iPhone 15 Pro and iPhone 15 Pro Max are powered by A17 Pro, the industry's first 3-nanometer chip. A17 Pro brings improvements to the entire chip, including the biggest GPU redesign in Apple's history. The new CPU is up to 10 percent faster with microarchitectural and design improvements, and the Neural Engine is now up to 2x faster, powering features like autocorrect and Personal Voice in iOS 17. The pro-class GPU is up to 20 percent faster and unlocks entirely new experiences, featuring a new 6-core design that increases peak performance and energy efficiency. Additionally, a new USB controller enables USB 3 speeds on iPhone for the first time, now supporting much higher transfer speeds and video output up to 4K at 60 fps HDR.
The new 6-core GPU in A17 Pro expands what's possible on iPhone, enabling next-level mobile gaming with fast, efficient performance and hardware-accelerated ray tracing.
Camera
The camera systems on iPhone 15 Pro and iPhone 15 Pro Max both pack the equivalent of seven pro lenses — all enabled by A17 Pro. With the power of computational photography, the 48MP Main camera, built exclusively for the Pro lineup, gives users even more flexibility with a new 24MP super-high-resolution default.
The Main camera allows users to switch between three focal lengths — 24 mm, 28 mm, and 35 mm — and even choose one as a new default. In addition to 48MP ProRAW, the Main camera also supports 48MP HEIF images with 4x more resolution. iPhone 15 Pro features an expansive 3x Telephoto camera, and iPhone 15 Pro Max provides the longest optical zoom ever on iPhone: 5x at 120 mm. The new Telephoto camera on iPhone 15 Pro Max has a tetraprism design with a combined optical image stabilization and autofocus 3D sensor-shift module.
Next-generation portraits on iPhone 15 Pro and iPhone 15 Pro Max feature sharper detail, more vivid colors, and better low-light performance. For the first time, users can take portraits without having to switch to Portrait mode. When there's a person, dog, or cat in the frame, or when a user taps to focus, iPhone automatically captures depth information, so users can turn photos into stunning portraits later in the Photos app on iPhone, iPad, or Mac.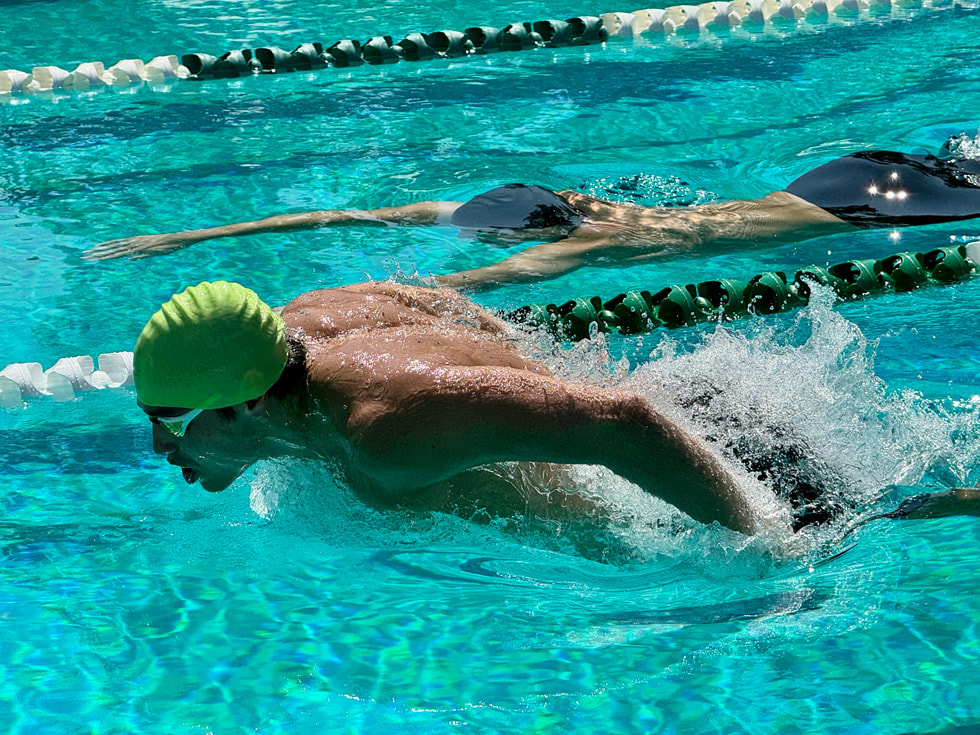 Additional features that benefit all cameras on iPhone 15 Pro and iPhone 15 Pro Max include:
Night mode gets better with sharper details and more vivid colors, now powered by the Photonic Engine, including Night mode portraits, enabled by the LiDAR scanner.
New Smart HDR captures subjects and the background with more true-to-life renderings of skin tones, while ensuring photos have brighter highlights, richer midtones, and deeper shadows when viewed in the Photos app. This advanced HDR rendering is also available to third-party apps, so images can look even better when shared online.
There are new features for creative pros and filmmakers with new pro workflows. Users can now get up to 20x faster transfer speeds with an optional USB 3 cable. iPhone and third-party solutions like Capture One also help photographers create a pro studio, allowing them to shoot and instantly transfer 48MP ProRAW images from iPhone to Mac. ProRes video can be recorded directly to external storage, enabling higher recording options up to 4K at 60 fps, and greater flexibility on set when using iPhone as the main camera. iPhone 15 Pro also introduces a new option for Log encoding and is the first smartphone in the world to support ACES, the Academy Color Encoding System, a global standard for color workflows.
Connectivity
The iPhone 15 Pro lineup offers USB‑C connectors, a universally accepted standard for charging and transferring data, allowing the same cable to charge iPhone, Mac, iPad, and the updated AirPods Pro (2nd generation). Users can also charge AirPods or Apple Watch directly from iPhone with the USB‑C connector. iPhone 15 Pro and iPhone 15 Pro Max support USB 3 for data transfer speeds up to 10 gigabits per second, up to 20x faster than before.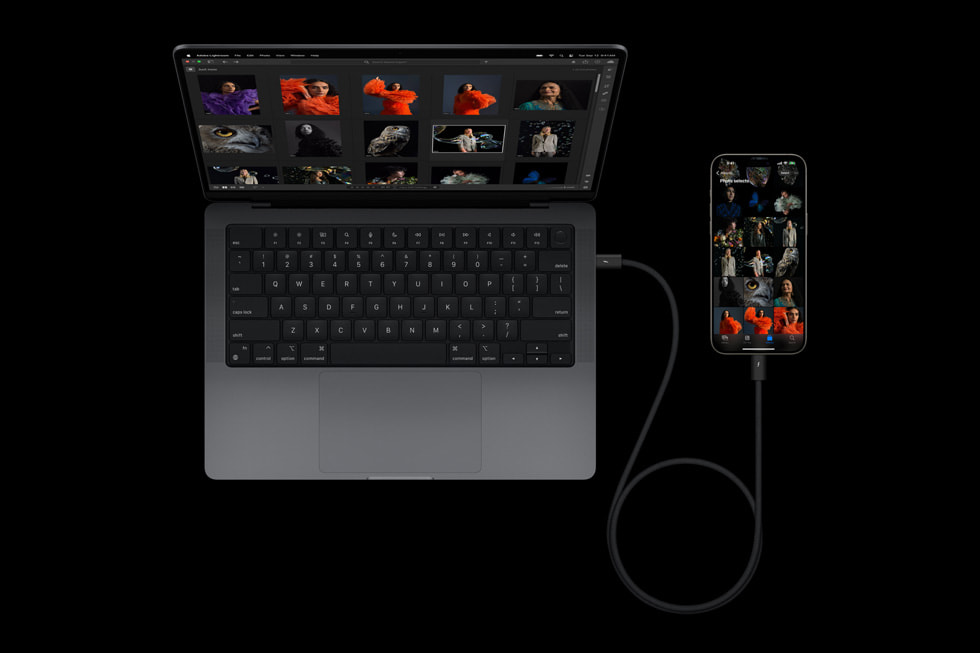 Both models feature the second-generation Ultra Wideband chip, enabling two iPhone devices with this chip to connect at three times the range as before.
iPhone 15 Pro and iPhone 15 Pro Max now support Wi-Fi 6E for greater wireless performance, including up to 2x faster speeds, and introduces the first Thread-enabled smartphones.
Pricing and Availability
iPhone 15 Pro and iPhone 15 Pro Max will be available in black titanium, white titanium, blue titanium, and natural titanium finishes. iPhone 15 Pro remains at the same starting price of AED 4,299 available in 128GB, 256GB, 512GB, and 1TB storage capacities. iPhone 15 Pro Max starts at AED 5,099 available in 256GB, 512GB, and 1TB storage capacities.
Customers will be able to pre-order iPhone 15 Pro and iPhone 15 Pro Max beginning at 4 PM UAE time this Friday, September 15, with availability beginning Friday, September 22.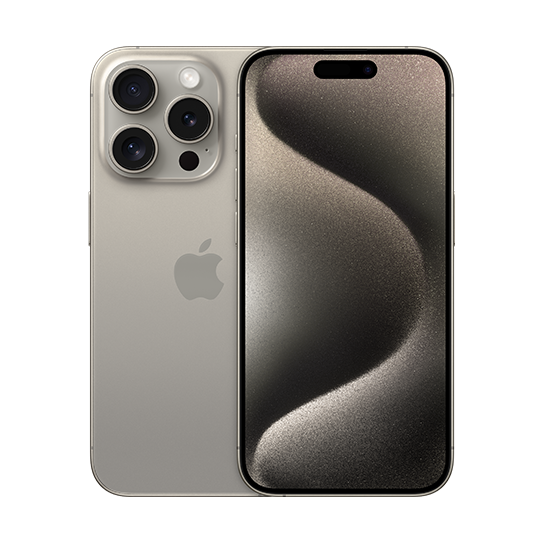 iPhone 15 Pro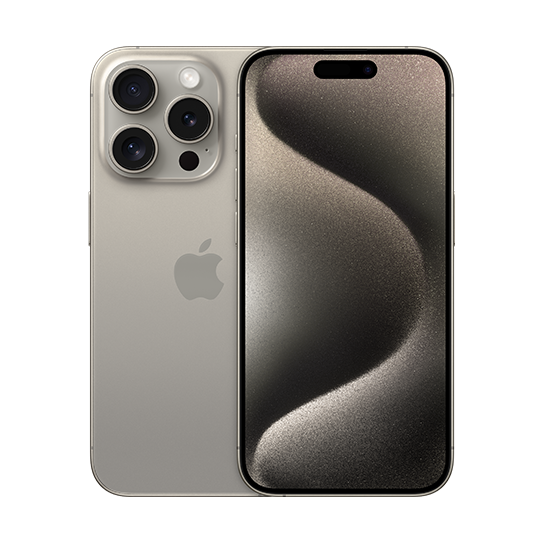 iPhone Pro 15 Max